There are very few online poker sites that accept American players at this time, as you are probably already aware.
Of those that do, few have low deposit limits due in large part to the restricted deposit methods that are available.
Having said that, it is still possible to find some sites that are accomodating for US players, and we have found some sites that have reasonably low deposit limits.
If you use Bitcoin then you will find that you have more poker rooms available to you with lower deposit limits than available through other payment methods. If you have never heard of Bitcoin we have a short introduction to cryptocurrency poker rooms here.
Both the poker rooms at Seals with Clubs and BetCoin Poker accept players from the U.S. and have deposit limits starting at 0.001 Bitcoin, which is about equal to $0.50 US cents or a little less. There are no fees on deposits or withdrawals. The exchange rate does change, but that rate is correct at the time of writing.
It is a fact of (poker) life that deposits for US citizens cost more than other methods, and while most sites will absorb the transaction fees on deposits for other players, few do so for the US players. Bear in mind then that even if you can make a small deposit, the fees may make it very costly to do so.
Americas Cardroom Poker Minimum Deposit $50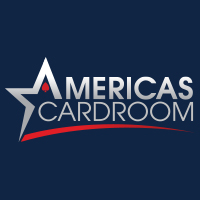 Americas Cardroom welcomes American players, as you would expect given the name, but their limits are not very low. For US players, the only deposit options are by Rapid Transfer and Moneygram, with a minimum amount per transaction of $50.
That is unfortunate, as European players using Neteller for example can deposit just $10.
However, if you do make a deposit here, Americas Cardroom offer an ATM card to make withdrawals very easy. Again, there are charges associated with using that card, so it may not suit everyone. It is designed more for the professional or semi-professional players rather than the casual player.
Bovada Poker Minimum Deposit $20 by Visa
Bovada Poker only accepts players from the U.S.A. so they are probably a very good bet for getting your deposit through. as usual, deposit options are limited. You can use Rapid Transfer and Moneygram, both of which have a minimum limit of $100 and there are fees involved. Fees on deposits over $300 are covered by Bovada.
You can also use your Visa card with Bovada with a minimum limit of only $20.
Credit Cards for US Players
This is just a little bit of extra information regarding credit cards and American players.
In general, MasterCard credit cards will not work in any US facing poker room. The reasons for this are not really important, you just need to know that it is not a viable option. While Visa cards have a higher percentage success rate, generally they need to be internationally enabled. That will depend in large part on the issueing bank. You can of course contact your bank to have your Visa credit card enabled for international use, though not all banks offer this as an option.
Even for non American players, MasterCard can be very difficult to use for gambling online. While many non US sites offers MasterCard deposits, I have not seen one that offers withdrawals by the same method. This seems to be a specific issue with this brand. If you do use MC to make a deposit, and will have to find some other way to get your funds back, you might be better off to use that second option to make your deposit in the first place.
The customer support of the various poker rooms will be able to tell you fairly quickly whether you visa card will work or not. At the present time, we do hear great things about depositing with Visa at Carbon, but of course that can change at any time. In fact, Carbon recently increased to withdrawal limits to levels that effectively prohibit the casual player from playing there. While you can still make a small deposit there if you have a method available to you that works, you may never reach their new withdrawal limits from playing that small deposit. You might think that making an extra deposit to bring your bankroll up past the required withdrawal amount will be an option, but don't forget about the processing fess that will be charged on that etra deposit. Those fees can eat into your expected profit quite significantly.
Generally speaking, it is probably best for Americans to contact support at their chosen room first, before attempting to make a deposit even by the listed method. Those rooms that are still operating in the States are by now quite good at finding the best way for you to get your money to them. It is best to have a quick chat with CS at the poker site telling them what options you have available to you for depositing, and they should be able to walk you through the most viable method from among those options.
With the legalization of online poker in New Jersey, though with heavy restrictions in place, perhaps we can see the light at the end of the payment processing tunnel. Even though it is legal in NJ, players were still having a lot of difficulty in makiing deposits at licenced NJ rooms, at least in the early days. There aren't enough players playing at those rooms to know for sure if this is still ongoinig. Perhaps the work has finally gotten to the banks now.
Unless you are resident in NJ, you will have to wait for legal poker in your state, or stick with the rooms and methods outlined above.
As always, it is good advice to keep your deposits as low as reasonably possible, so that if something does go wrong, you won't have your whole bankroll tied up in limbo while the problem gets sorted out.